"The Art of the Deal" Revisited by the Man Who Wrote

It

!
I

f we told only Democrats to read the recent New Yorker article by Tony Schwartz, who was the ghostwriter for Donald Trump's best seller, "The Art of the Deal," that would amount to preaching to the choir.

It is a "must read" for any American who intends to vote in November!

Particularly, those

planning to

vote for Donald Trump or who are still undecided, must be alerted to it. It is what critics might call a "hatchet job," but unfortunately,

Schwartz seems to be telling the truth about the man who is the Republican nominee.
And it wouldn't hurt if those with the wisdom to have already decided not to vote for him took the time right now to forward it to their Republican friends.

A click of your mouse

right here

will bring you this fascinating article,

and once there, after you've read it, it's a simple matter to place its link (http://www.newyorker.com/magazine/2016/07/25/donald-trumps-ghostwriter-tells-all) in an email to your friends, or you could simpl

y forward this blog posting to them

.
I cannot see how anyone who

seriously thinks about the future of the United States

would even consider voting to put Donald Trump in the White House after reading thi

s article.

But I saw and heard a lot of conventioneers in Cleveland last week who indeed did. Trump's supporters were so horrendous

in

their

response to Ted Cruz

that they made even him look good in the

eyes of many who

normally would not sympathize with him.

Read the article!
* * * *
And while on this subject, here's a quote from Mother Jones about a recent New York Times article regarding Trump's VP choice.
A

new report from the

New York Times Magazine

goes behind the scenes of the VP selection process and claims that Trump's first choice was his former rival, Ohio Gov. John Kasich. Perhaps more interestingly, the report sheds light on the unprecedented level of power Trump plans to delegate to his vice president if elected. According to the

Times,

Trump's son, Donald Trump Jr., was responsible for vetting the potential candidates. Here's a scene from one conversation he purportedly had with a Kasich adviser. (The Times had enough confidence in the veracity of this information to publish it in their Sunday Magazi

ne.)
"Did he have any interest in being the most powerful vice president in history?" When Kasich's adviser asked how this would be the case, Donald Jr. explained that his father's vice president would be in charge of domestic and foreign policy. "Then what," the adviser asked, "would Trump be in charge of?" "Making America great again" was the casual reply.
Do you want a President like that? I don't. And even if you do, even after reading the New Yorker article,

r

egardless of how you might feel about the Obama administration or Hillary Clinton, there is no justification whatsoever for voting for an inexperienced, unqualified and untrustworthy Donald Trump. It would be like trusting an unlicensed driver, who had never ever been behind the wheel before, but had talked his way into the job, to drive the school bus taking YOUR kids to school

!

For "thinking" Republicans

, who cannot and should not support Trump, the c

hoices in 2016 should be (1) Hillary Clinton, (2) Libertarian Gary Johnson or (3) Staying home. Voting for Donald Trump is not a choice.

One just as well might vote for Donald Duck.

Every Republican should recognize this. Our government is not a reality show nor a piece of real estate to be peddled, sold or rented, and it is a more

demanding job than driving a school bus!
In our next posting, we will attempt to address the question of why Vladamir Putin has said that he would prefer Trump to Hillary Clinton in the White House, and candidate Trump's busines

s relationship with Russian and Ukrainian interests.
JL
The Man in the Maroon Blazer – A Chrissy Frost Story
(

"Chrissy Frost" is an entirely fictitious creation. My apologies go to anyone who might happen to share that name, and I know there are some of you out there. Ms. Frost was introduced to our readers in a story included in the July 11 posting on this blog.)
Crissy Frost was reminiscing about the time she first hit it big, playing in the grand show room at Grossinger's over forty years ago. The audience was rapping on the tables with those wooden sticks with balls at the end which the hotel provided in those days. They connected with her most when she belted out her signature tune, Sammy Cahn and Julie Styne's great 1947 hit. "Time After Time." She loved that rhyming of "time" with "I'm." It really clicked with audiences.
"Time after time, I tell myself that I'm, So lucky to be loving you…"
She noticed a man in the second row of tables getting up, as the audience applauded and rapped away. He wore white slacks and a maroon blazer and held a bouquet of pink roses in his hand. Running up to the stage he tossed it at her and then retreated back to his table. Not knowing what else to do, she had caught it and ran backstage.
Fifteen years, and two divorces later, at the 400 seat lounge at the Sands in Vegas, where she had landed a six-month gig, the same thing happened.
"So lucky to be, the one you run to see, in the evening when the day is through…"
"Was it the same guy?" she afterwards asked herself. "White slacks, maroon blazer, pink roses. It had to be. You don't forget something like that, especially since no one usually tossed bouquets at singers in Las Vegas, or Grossinger's, for that matter. Hey, I'm no opera star." She looked out over the audience but he was gone.
A decade later, Chrissy's latest incarnation was as a fiftyish, both age-wise and music-wise, chanteuse serenading midnight patrons who liked the "oldies" in the Giraffe Room in the Waldorf in Manhattan. Most of that night-cap crowd, many of whom had been attending formal events there earlier in the evening, were still dressed to the nines. That's why the fellow in the white slacks and maroon blazer stood out. And when she saw the bouquet in his hand, she knew what was going to happen.
"I only know what I know, the passing years will show, you've kept my love so young, so new…"
This time, after catching the bouquet, Chrissy whispered to the piano player to play some Gershwin for a couple of minutes. Gingerly hopping down from the stage, she chased after the maroon blazer, catching up with him in the lobby. Before she could say a word, he turned to her.
"Chrissy, I'm your biggest fan ever. I've followed you for years. After my wife, I love you most of all."
"Gee, thanks! I really appreciate that! But what's your name, anyway?"
Before she could say another word, he had bolted out the door, and turning his head, called out to her as he waved down a taxicab. "Sam Fink from the Bronx, that's me!" And he was gone.
Only know photo of Sam Fink, running away from Chrissy Frost
And now, years later, here was Chrissy Frost, seventy-seven years young, just starting to make it on the "condo circuit" in South Florida. Perhaps it was the sunshine and the walking in the pool, but her left leg, the one that the stroke six years earlier had affected, was regaining some of its musculature and strength. She was able to put away her walker and now only occasionally carried a cane which she really didn't need too often for support, but liked to use as a pointer, and as a stage prop.
Florida agreed with Chrissy. She had almost cracked up mentally when her career up north dead-ended, but performing for retirees in Palm Beach County seemed to have given her a second life.
It was in the theatre at Huntington Lakes where she spotted him, about ten rows back. No mistaking him. Same guy, same white pants, maroon blazer and that bouquet held at the ready on his lap. When she sang, she fixed her gaze directly on him. She even pointed her cane at him in a gentle manner as she finished the lyric, and blew him a kiss.
"And time after time, you'll hear me say that I'm, so lucky to be loving you."
After the applause subsided and she took her bows, Chrissy wanted to go down and talk to him if she were able to catch him in the theater lobby, but the crowd was thick, and there was a hubbub at the door. People were stopping her to shake her hand, asking her to autograph the CDs they had just bought and complimenting her on her performance, so she wasn't able to catch up with Sam Fink.
Once back at her sister-in-law's place in Boynton, where she still was staying, the telephone rang. She picked it up.
"My name is Estelle Fink. I think you may know my husband, Sam. Or at least that's what he has been telling me for the past 48 years."
"Actually," Chrissy replied, "That's sort of the truth."
"Well, I think you should know that Sam passed out on the way out of the theater tonight. He has a bad heart. That's what the delay in the lobby was all about, waiting for the EMTs to come. He's in Delray Hospital now, and they don't think he'll make it. Would it be too much for me to ask if …"
"Mrs. Fink … Estelle, I'll be right over."
Unfortunately, Chrissy didn't make it in time, but three days later at the funeral chapel on Jog Road, after the rabbi chanted the
"El Malei Rachamim," Estelle asked her to step to the microphone. She glanced at the walnut casket, and then at Estelle down in the first row whose tear-stained face brightened imperceptibly as Chrissy quietly sang.
"Time after time, I tell myself that I'm, so lucky to be loving you
So lucky to be the one you run to see, in the evening, when the day is through
I only know what I know, the passing years will show, you've kept my love so young, so new
And time after time, you'll hear me say that I'm, so lucky to be loving you."
Time After Time: Music by Sammy Cahn, Lyrics by Jule Styne.

Copyright 1947
(This story originated as an assignment at the Cascade Lakes Writers' Group, where the suggested subject matter was "time or clocks.")
Blocking Nuisance Phone Calls
Bothered by unwelcome telephone calls?

When they're not trying to sell you something, they're just testing to see if you pick up, so that they can add your number to a data bank.

If you think you get a lot of calls now, just wait until we get closer to the November election.

And signing up for the government's "Do Not Call" list doesn't help very much.

But here's a solution.

It works on my Panasonic cordless phones and other manufacturers' manuals probably describe something similar.

It's simple!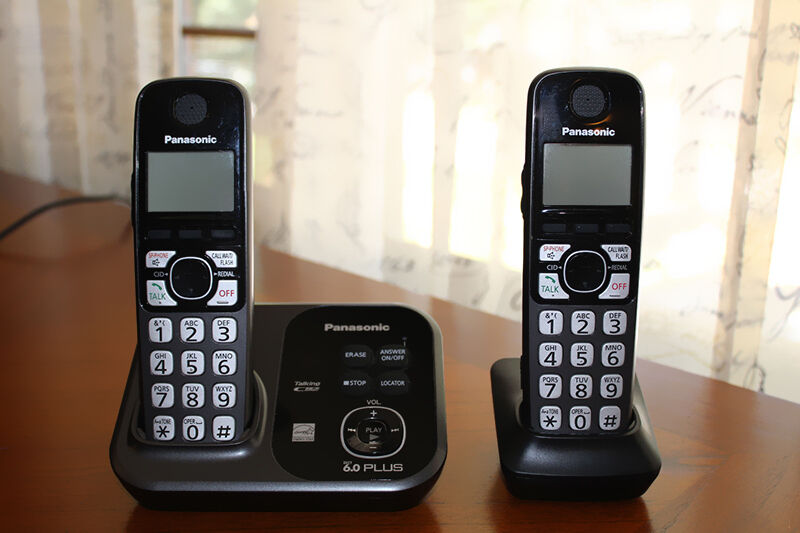 Check your caller ID listing (CID) on your Panaso

nic cordless phone

).

If you want to block future calls from any number shown on it (let's say it's a caller from Bremerton, WA, where you know absolutely nobody), just click on "Select."

Then, on the next screen that appears, click on "Save."

Then, on the next screen, click on the number shown to "Block," which on my phone is "2."

That's it.

The next time that number dials you the phone rings once and then cuts off the call.

Give it a try.
The weakness in doing this is that there is a limited number of telephone numbers which a phone can block. Once you reach that number, you can start deleting the earliest numbers you blocked,

hoping they won't come back after a experiencing a few blocked attempts, and block some new numbers.
And on mobile phones or tablets, it's easier.

Just go to the listing of your calls made and received and click on "Info" and you will be given the opportunity to block that number.
An Improvement on a

C

ool Summer Drink
Make yourself an ice cream soda! Fill a tall glass 2/3 of the way up with ice cold tonic water. Then put in a generous scoop of chocolate ice cream (I use Bear Claw, a deep chocolate which adds caramel and cashews) on top. The ice cream never should be put in before the toniic water; ice crystals will form. Stir with a tall spoon and enjoy!

Okay, I've improved on this recipe which was included on the last blog posting. Put in a little less tonic water and add about an ounce and a half of vodka. Makes it better!
JL
A Poem
Old horses, smarter than frisky foals,
Still looking good until they slowly
If you can, seek to find eager steeds
Able to stand and pull the heavy
But newer beasts may not know the path
And stumble over rocks or bumps which
Jack Lippman
HOW TO BE ALERTED TO FUTURE BLOG POSTINGS.
Many readers of this blog are alerted by Email every time a new posting appears. If you wish to be added to that Email list, just let me know by clicking on

Riart1@aol.com

and sending me an Email.
HOW TO CONTACT ME or CONTRIBUTE MATERIAL TO JACK'S POTPOURRI.
BY CLICKING ON THAT SAME ADDRESS,
Riart1@aol.com
YOU ALSO CAN SEND ME YOUR CONTRIBUTIONS TO BE PUBLISHED IN THIS BLOG AS WELL AS YOUR COMMENTS. (Comments can also be made by clicking on the "Post a Comment" link at the blog's end.)
DID YOU KNOW THAT www.jackspotpourri.com IS ALSO AVAILABLE ON YOUR MOBILE DEVICES IN A MODIFIED, EASY-TO-READ, FORMAT?
HOW TO VIEW OLDER POSTINGS.
To view older postings on this blog, just click on the appropriate date in the "Blog Archive" midway down the column off to the right, or scroll down until you see the "Older Posts" notation at the very bottom of this posting.

The "Search Box" in the right side of the posting
also may be helpful in locating a posting topic for which you are looking.
To send this posting to a friend, or enemy for that matter, whom you think might be interested in it, just click on the envelope with the arrow on the "Comments" line directly below, enabling you to send them an Email providing a link directly to this posting.
You might also want to let me know their Email address so that they may be alerted to future postings.